In many ways dating is a lot like fishing. There may be a lot of fish in the sea but that doesn't mean you're going to catch one every time you go fishing, let alone catch the one you're after. So whether you've met someone really special on a dating site like this and are planning a break, or you've been an item for some time and are seeking fresh challenges, have you ever considered a fishing holiday? Perhaps this is a pastime which is associated with blokes sitting by a river, beer cans to hand, surrounded by other guys, all of whom seem to regard this as less of a hobby and more of an excuse to escape domestic chores for a while! Fishing is actually a fantastic activity for any romantic couple or as a first date idea, as it's something you can enjoy together, for hours on end, and there are so many opportunities to soak up magnificent landscapes. Here are some of the best locations.
Hawaii
The 50th state of the USA is a collection of striking islands, each with diverse ecosystems. If you hire a boat you can begin to explore seas which are teeming with all sorts of marine life, from lugubrious whales and sea turtles through to vast shoals of multicolored fish. Going fishing in Hawaii is probably as far removed from the traditional image of pottering around streams or ponds as it's possible to get. Just a short distance offshore you can pit your skills against tuna, sailfish or nearer the surface, mahi-mahi, which is the Hawaiian name for a species of dolphin fish. If you and your other half would like more of a challenge when it comes to angling, you have the option of attempting to snare a marlin (although these agile swordfish can grow to five meters long, and can put up a considerable battle against any traditional local fisherman.)
Scottish Highlands
Scotland may be a relatively small country but it has been a tourist magnet for decades. When it comes to fishing, there are so many different options in this land of breathtaking national panoramas. You need to be careful when it comes to angling in certain areas, where permits are required. Your best bet is to seek advice from the local tourist information outlet. There are lochs (the Scottish name for lakes), rivers, canals and sea inlets, each environment attracting different fish species. After any amount of time spent fishing these waters, you can plan to visit places of historic interest, followed by a trip to the local seafood restaurant.
Yellowstone National Park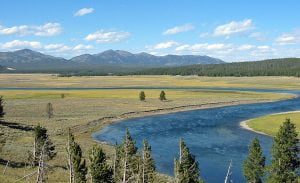 The best fishing outings are those which combine the pastime with other pursuits. A trip to this American park offers the chance to indulge in some fabulous hiking trails, where you can observe a variety of wildlife and take photos of spectacular waterfalls, torrid geysers, and distant snow-covered peaks. There are many streams and lakes where you can cast your lines and see if you get any bites. The waterways themselves make for a beautifully tranquil backdrop, proving vast mirror images of the scenery.
Alaska
Dazzling scenery, crystal-clear waters, and numerous fish species including sockeye salmon, coho and chinook, America's most northernmost state offers romantic fisherpeople an especially romantic setting for your getaway.
Jamaica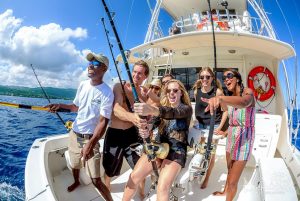 When most people picture the Caribbean, they think sunny skies, palm trees, and azure seas. There's an incredible diversity of marine life coasting through the shallows or riding the stronger currents beyond the reefs. Your best bet is to book a chartered fishing expedition and take advice from a real professional. After all, you don't want to find yourself snaring a shark or a swordfish, or any of the other species which tend to be tackled by serious game fishers. On the other hand, everyone has to start somewhere, and the experience will bring you and your partner closer together!