Michael Gray's unique appreciation for the meaning of commitment and loyalty inspired the creation of a new brand, Buddie Life, offering casual clothing and accessories that celebrate friendship and good times. Years of hard work to overcome his disability made leisure time with friends particularly sweet. In 1996 Michael's longtime friend Gary Nester introduced him to golf on a Caribbean vacation. Michael had played college football, aiming for the pros – this new experience was a revelation. "The point is not about how good you are, or winning, but about enjoying each other's company… I've come to understand that golf and fishing are some of the most underrated team sports out there, because it's not about how well I golf or fish, but about spending quality time with my inner circle of friends."
In 2015 they launched Buddie Life, celebrating the acceptance, commitment, and a sense of home good friends share. Throughout his life his friends have opened the world to Michael and in turn, his ability to give his full attention and his heart has inspired their loyalty. "Our brand represents more than a clothing line; it is a celebration of those priceless moments when we are with our friends in thought or in person."The brand offers clothing, customizable trophies, and accessories for friends to commemorate their enjoyment of pastimes together. Iconic characters that represent real-life friends were created for the men's and women's lines.
About Founder Michael Gray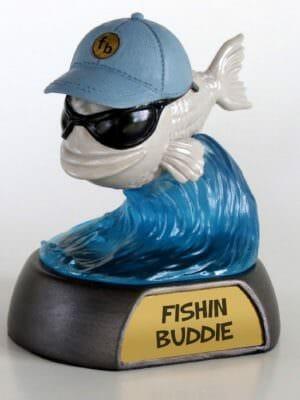 When spinal meningitis at 10 months of age left him with a profound hearing loss, Michael's audiologists advised his parents he would never learn to speak and would never attend public school. Whenever someone told Michael's mother her child couldn't, she decided he could. Together his parents worked as a team to bring him out of his silent world, teaching him how to speak, showing him the value both of hard work and of play.
Until he was in the ninth grade his mother worked with him for hours after school, tutoring him face-to-face. She kept his hand on her heart while she spoke, making him repeat words until his speech sounded like pleasing oral communication. She fought for him to enter public school after kindergarten rather than be boarded at a young age in a school for the deaf, far from home – she wanted to nurture her son's soul as well as his speech. With his mother's dedication, he learned to communicate through speaking and reading lips. Years later, the audiologists who worked with him were doubly amazed to see him mastering social speaking skills as he had.
Michael's achievement tells the story of a dedicated family, open-minded teachers who advocated for him, bosses who gave him opportunities, long-lasting friendships, and faith – not just one man's extraordinary effort. Today an engaging conversationalist, a man skilled in many trades and accomplished in business, he acknowledges the skills learned to overcome his disability have become an asset, too. "I cannot multitask when communicating, and as a result, everyone gets my one-on-one, undivided attention." The ability to give attention and to read p
eople, not just read lips has helped him to build strong client relationships and lasting friendships has brought about the lifestyle of Buddie Life.
Buddie Life products are available at Amazon and range in price from $16.99 for women's cotton-blend tank tops to $44.99 for men's golf moisture-wicking pullovers. In keeping with its commitment to local business, Buddie Life works with New England manufacturers and suppliers. The Buddie Life brand is owned by Endless Round, LLC, a family-owned company in Stratham, New Hamsphire.