Bass Kayak Fishing Tips and Techniques
 Kayak. It's not just for whitewater anymore.
The more aggressive and adventurous individuals of the human race take their kayaks to streams with rapids rated at Grade III and above (advanced and expert). The fishing fanatics among us make good use of these easy-handling craft to bring in bass. In fact, the kayak has proven to be a great way to enjoy calm waters, even if you're not after a lunker.
Oh, there are adrenaline junkies who pursue sharks and ocean-sized fish in these small craft, but that's another story altogether. If you're interested in floating a relatively mild stream to find smallmouth or want to cruise among the cypress knees largemouth, the kayak may be just right for you.
Leave the awkward rowing of a boat behind, and don't worry about keeping your small motor in good trim. Just drop your craft into the water, hold on to a lightweight paddle and drift away.
Choose Your Weapon
If you haven't given this method of fishing a try, you're certainly in for a unique experience. Many of those who consider themselves veterans of kayak fishing have found it takes a different way of viewing the fishing pastime. It's not necessarily about hooking a huge fish or bringing in a dozen for total weight. This is about the places you see, the trips to quiet locations, and the peace of mind fishing can provide.
Of course, when you employ a kayak as one of your tools, you're going to fish in some of the most productive locations, places you didn't get to with a larger craft. But the key is to make sure you have the right kayak.
Keep in mind there is no "one size fits all" when it comes to bass fishing with a kayak. It's best to get some idea where you'll be fishing and how you'll be propelling.
Freshwater pond for largemouth?

Streams and smaller rivers for smallmouth?

Cypress swamps for the hidden treasure?
You should talk to a supplier or two to learn more about this unique water craft. You can also browse the Internet to find a lot of information about fishing kayaks. You can buy one to sit in, or one to sit on. If you're interested in lighter weight and will be on moving water, you might go with the type of kayak you sit in. Most of your movement will be by paddle, though some larger, more-expensive kayaks also have pedals for propulsion. This keeps your hands free for fishing action.
Kayak Size = Fishing Access
Other factors you should consider when buying a fishing kayak are:
Length – Ranging from about 6 feet for inexpensive versions to more than 12 feet for two-seat, luxury models

Width – Generally, about 3 feet in width, though lower-priced models will be slightly narrower.

Weight – This number varies a lot. The assemble-it-yourself canvas models can be lifted with one hand. Mid-range models come in at about 85 pounds. Luxury craft weigh in at more than 120 pounds (two-seat models)
Again, talk to your retailer about this and read all the information you can about various kayaks before making the investment. You'll need to consider seat comfort and storage space for gear as well.
Of course, if you want to stand and fish, you'll need to look at a slightly different design, one that resembles a small boat but is still of the weight and length of a kayak. Hobie, Feelfree, Elie Coast and Eddyline are some of the more popular providers.
Hobie could certainly be considered top-of-the-line when it comes to kayaks designed specifically for fishing. Invest in one of these exquisite craft and you have seating for two, storage hatch and pedal-propulsion system. Set your financial sights a bit lower for the Perception Pescador Pilot. It weighs much less and seats one person. This model also has pedal propulsion.
When you're fishing for bass in a kayak, the key factor is going to be access. In this type of craft, you're closer to the water so you'll know more about water conditions, under-surface obstructions, and you may even see evidence of larger fish moving about.
With the right craft, you can fish from a sitting position or stand up for accurate casting. It's certainly not about a 360-degree flip. That's for the whitewater guys.
Back to Nature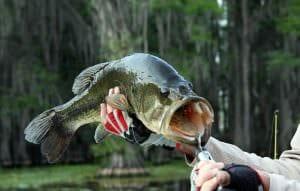 Some of the individuals who have been bass fishing in a kayak for several seasons say they enjoy reaching secluded waters and getting a bit closer to nature. It's a new experience, they say, one that means you'll have to get used to moving to a fishing spot slowly.
But, you will also need to be a bit more careful about your location and directions if you're going to explore new territory. A GPS unit is a fantastic tool for all fishing, but especially for a new adventure. With the new GPS units and fish-finder combinations, you can see underwater objects and fish very clearly.
Most of the kayaks you'll use will have space designed specifically for mounting the electronics you'll need for successful bass fishing. You will be able to record and store your information, including the path to and from those new spots.
Remember, your goal is to get right to the places where bass hang out. Sometimes, this is tougher on gear than open-water fishing. But if you do it right, you'll find bass fishing from a kayak is a remarkable experience.
Details  
The best equipment for this type of fishing will be a low-profile bait caster and medium-to-heavy graphite rod. Of course, this can be adjusted for the type of fish you're targeting. One veteran urges others to keep a close eye on the knot holding your leader, and re-tie when you notice any nicks or abrasions.
Use a leader that is almost invisible in the water. A 7.5" Yum Ribbon tail is a good go-to bait, along with floating or suspending hard baits. Of course, we all have our favorites, and this depends on where you look for fish. Early in the year (April) you'll find fish in warmer waters, such as east-facing banks and shallower coves. Best times are afternoon and evening early in the season.
Bigger fish will generally hang out at the end of timbers extending from the bank. With a kayak you will be able to set yourself so that positioning the bait won't be so difficult. Smaller fish will be closer to the bank, so if you want to get some activity you may even cast to the bank and pull back to the shallow water. Don't write off a warm, rainy day either. This helps raise water temperature and can increase activity.
Summer Days
As the water warms, bass will start to spawn, usually close to shore in water less than about 8 feet. From your kayak you should be able to manage a slow retrieve at or near the bottom quite handily. As the water gets warmer later in the year, spawning bass move from the beds. When it's quite warm, you'll need to put your kayak close to, or in, shaded areas and where there are lily pads and down timber.
Move in carefully under over-hanging trees. You'll find this is an ideal spot to while away an hour or two on a hot day. And, you'll also discover that bass have a similar way of thinking on those sweltering summer days. When you want to catch truly elusive fish, using a kayak and thinking like a fish can be perfect methods.
When the temperatures rise in summer, you'll have to work a bit and cast around more. You'll need more patience. Here's a great tip:
Use those rainy days for better results, since the water tends to cool a bit. Bigger baits, even 9" or 10" can be effective at a drop-off area or steep bank.
A Kayak Overview
Use the kayak to great advantage. It allows you to get much closer to the fish, especially if you paddle quietly into position. If you enjoy your time alone, a mid-range, mid-priced one-seater will be ideal. You'll have plenty of room for gear, bait and storage, plus many of these models are stable enough for stand-up fishing.
When fishing is a time to share experiences with a close friend, you should select one of the larger, two-seat models. Look for captain's-chair design and swivel operation, as you would with a bass boat for open-water fishing. When you get to this price level, you're working the bass world with one of the most-effective water craft available.
This bass-catching method will open a whole new outdoor world to you, because a kayak will get you to some of the fishing holes you haven't accessed before. As veterans of bass fishing from a kayak will tell you: Prepare yourself for a totally new experience.
No matter how you decide to chase down those bass, remember to take care.
Do your best to be safe. Good luck.