Aqua-Vu® debuts remarkable AutoClear Technology in latest generation HDi Underwater Cameras
Crosslake, MN (November 13, 2018) – "It was so murky down there, I could barely see my hand in front of my face," observed underwater explorer Kim Stricker.
Submersed in chilly, coffee-colored water, Stricker was recently filming a segment for the Outdoor Channel's popular series, Hook 'n Look when something remarkable happened. As he'd done hundreds of times before, the ace angler had donned scuba gear to explore the depths, this time attempting to swim with bass in a highly stained natural lake. "We knew this was a bass wintering location, but I wanted to take the plunge and show folks what the bottom looked like, how the fish were positioned, and any other important detail.
Aqua-Vu HD10i Pro with AutoClear Technology.
"But as I descended into just 17 feet of water, it was already getting pretty dark," Stricker recalls. "At 20 feet, where most of the bass were holding, you couldn't see anything at all. It gets a little creepy in those sorts of conditions, especially when you're down there by yourself."
Back aboard his boat, Stricker couldn't believe what occurred next.
"Out of curiosity, I turned on my underwater camera to see if it would give me a better look. Incredibly, the monitor showed an almost crystal-clear environment. We saw colorful bluegills swimming by. We could make out the reddish-tan color of the silt bottom and all the subtle dips and holes, plus little clumps of vegetation. One of the bass we saw was laying so still on the bottom that we could see algae falling away from the its belly as it woke up and started to swim.
"The difference in clarity between what I saw through my scuba mask and the lens of the HD7i Pro camera absolutely blew me away," said Stricker. "The image on the screen looked almost like aquarium water, as if I was looking at an entirely different lake."
Unable to explain the discrepancy, Stricker called Aqua-Vu vice president and product designer, Tom Maschhoff.
"We built the newest generation of high-definition Aqua-Vu cameras with specialized firmware that essentially auto-adjusts the underwater image," Maschhoff explained. "What the angler sees is a super-refined or clarified underwater video image, altered as light, color and clarity conditions change."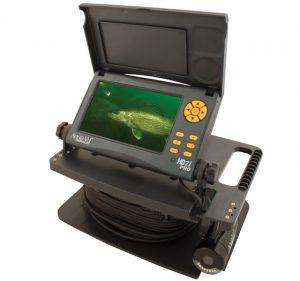 The science of light, says Maschhoff, demonstrates that water absorbs different colors based on depth. Colors with the longest wavelengths, such as red, disappear first, followed by orange, yellow, blue and green, as depth increases and light fades. "By auto-filtering specific colors— based on water conditions— we're able to project a clean, clear video image—even in stained water."
Maschhoff adds that Aqua-Vu HDi series cameras also feature refined low-light sensors that preserve a bright, clear picture, even as light fades by depth, and during low-light periods. AutoClear Technology, Aqua-Vu's term for the new, groundbreaking video software, allows underwater camera users to observe the depths of even relatively dirty-water lakes in impressive color and clarity.
"People are always asking us how well an Aqua-Vu will work on their home lake, which may have limited clarity. We think anglers and underwater explorers will be pleasantly surprised with what these new cameras can show them."
While the water in Stricker's lake appeared totally dark to the naked eye (left), the Aqua-Vu HD camera told a different story (right).
Pre-loaded on all Aqua-Vu HD10i Pro, HD10i, HD7i Pro and HD7i high-definition underwater viewing systems, the special visibility enhancement technology will also be available as a physical add-on accessory for existing Aqua-Vu systems later this winter.
But the bigger question remains: Did Stricker catch fish? (For full details, tune in to Hook 'n Look in March 2019—episode 11— to see for yourself.)
"The camera showed us the bass were hunkered tight to bottom, unwilling to chase fast-moving lures. Once we figured that out, we caught a bunch of good fish on a small jig and swimbait, crawled slowly along bottom, barely hopping it. When the jig touched down, it created a puff of silt. The bass would simply nose down into the little mushroom cloud and inhale it.
#AquaVu
About Outdoors Insight, Inc.
Creator of Aqua-Vu, the original Underwater Viewing System, Outdoors Insight, Inc. has led the underwater camera category in design, innovation and quality since 1997. The Central Minnesota based company builds many popular outdoors products, such as the iBall Trailer Hitch Camera (iballhitchcam.com) and Odor Check Moisture and Odor Control System (odorcheck.com) featuring Scent-Lok Technology. For more information on Aqua-Vu, visit www.aquavu.com.