2011 Spring Issue - BASS ANGLER Magazine
074470721703-11-02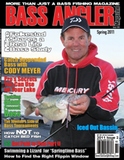 Back Issues
BASS ANGLER is a MUST-HAVE TOOL for bass fishing enthusiasts of all levels.
Published quarterly Bass Angler provides more information than any two other bass fishing magazines combined. Each issue has an astounding 30+ articles exploring the best in: how-to, seasonal tactics, destinations, and most current trends in bass fishing helping anglers catch more fish.
More than just a bass fishing magazine!
Spring 2011 (Vol. 20 issue #2) In this issue of BASS ANGLER read about: Mike Folkestad and how he learned first-hand about bass movements, how-to catch suspended bass with Cody Meyer or how a bass tells you what they want. Learn how-to swim a lizard or the right window for springtime flipping plus another "35" articles to help you become a better more informed angler. Our writers have combination of talent, passion and the desire to help others catch more bass, which provides the foundation for Bass Angler Magazine to be the finest bass fishing publication. Visit www.bassanglermag.com for more information.